I have been specifically looking for an old Clipper Seed Cleaner since my friend in Tennessee told me about them. I was not picky about a model number. A lab / salesman sample desktop model would work for most of our needs. One of the farm models would work even better.
I watched local papers and eBay auctions for years and never could find one for sale close enough or reasonable enough. I thought that this was odd because the region was a major seed and grain growing area and most farms had them - My Great-grandfather Schoenborn included. However, they seemed to have all disappeared or perhaps were on display as "antiques."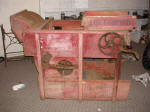 Out of the blue, Saturday morning, February 24, 2007, I received an email with a photograph attached. It read, "I have an 1800's small farm hand operated clipper for sale. It is still original and functional. It has about 10 assorted screens that are all in good condition. I am including a photo. $150"
I first forwarded the email to my buddy for input. He said that as long as it was intact and all of the moving parts working, I should get on the road and take a look at it. So I called the seller and found out he was about 45 minutes away. But based on his description, the asking price, and the amount of time I had been searching, I told him that I would come down with a trailer prepared to pick it up.
But the weather was not cooperating. The piece is all wood - very old dry wood at that - so it could not get wet. Plus as Dad pointed out, the trailer would shake the heck out of it. I talked to the guy and he said that he had a large step van that he could deliver it in for the cost of gas. Dad said that anything under $50 would be a good deal considering we would have to waste a few hours and burn gas ourselves. So, I told the guy it was sold and took him up on the delivery offer. He delivered it for $40 (it was a "van" like the UPS trucks!)
---
---
Links:
Company History:
Clipper Seed Cleaners were invented and manufactured in Ohio by John E. Smith. In 1891, he sold controlling interest in his company to A. T. Ferrell who moved manufacturing to Saginaw, Michigan.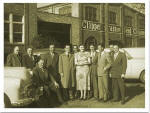 A. T. Ferrell and Company soon became one of the leading producers of seed and grain conditioning equipment.
The company still manufactures agricultural equipment, including seed cleaners, operating as a division of the Bluffton Agri/Industrial Corporation. The picture on the right is from 1952.
---

A Picture of a Model 2B Gleaned from the Internet