Carolyn Joan Male
June 26, 1939 to June 14, 2019
Carolyn Joan Male was born June 26, 1939, in Troy, New York to Elsie Dorothy Wigand Male and Raymond David Male.
Carolyn passed away Friday, June 14, 2019, at Glens Falls Hospital.
She was a 1957 graduate of the Milne School in Albany, and attended Cornell University. Carolyn was a member of Alpha Omicron Pi Sorority and received her Master's and Doctorate degrees from the University of Rochester.
From 1972 to 1982 she lived in Denver and taught medical students at the University of Colorado.
Carolyn moved back to New York and lived in Latham and taught microbiology at the College of Saint Rose.
She was passionate about heirloom tomatoes and was instrumental in working with Seed Saver Exchange and was a founding member of the website tomatoville.com and wrote a book entitled "100 Heirloom Tomatoes."
Upon retirement, she moved to Salem where she experienced multiple health issues which kept her mostly home bound.
Carolyn leaves behind a brother, David and his wife Ann of Mars Hill, N.C. and their children, Sarah and Garrett.
Private interment will be in St. John's Lutheran Cemetery in Colonie. Memorial contributions may be made to the Salem Rescue Squad, P.O. Box 360, Salem, NY 12865. Online condolences can be made by visiting gariepyfuneralhomes.com Arrangements are with McClellan-Gariepy Funeral Home, Inc., Salem.
Source: The Albany (NY) Times Union, June 16, 2019
This article is republished, for educational purposes. Text and images carry the copyright of their respective authors, photographers, and publishers. This page may be freely linked but not duplicated in any fashion without prior written permission of the respective copyright holders.
---
Dr. Carolyn: Memories from Our Friendship
by Mike Dunton
I have always worked at keeping a connection to the past and respecting history. History is an integral part of the life path I chose to follow. Perhaps it chose me.
Part of maintaining this connection is to reminisce about experiences, events, and the special people that have been a part of my journey. Dr. Carolyn Male was one of those characters woven into my story.
Like many people, I first became aware of Carolyn through my passion for heirloom tomatoes which led to my purchase of her 1999 book entitled, "100 Heirloom Tomatoes for the American Garden."
Over the years, I followed her through her posts on various gardening sites, and may have even participated in some "conversations." But it wasn't until one evening in 2002, at the encouragement of author Andrew W. Smith, that I got up enough nerve to send her an email.
That conversation led to a friendship that lasted until her passing yesterday morning, June 14, 2019.
The Carolyn that I knew had a strong personality, tough, could be very blunt and direct, definitely rubbed some people the wrong way, but had a soft side that could also be sweet and sensitive. I am sure that all of her friends (and frenemies) have their stories to tell that are very different from my relationship with her.
I believe that most people will agree that she was extremely passionate about heirloom tomatoes. Others will acknowledge that her annual seed distributions were something to look forward to.
I didn't participate in her seed distributions only because over the years I had earned her trust, and I hope respect, and she treated me more like a colleague; although I thought of her as a mentor.
She would take time to review the histories and descriptions I would write about new additions to our seed catalog, correct me as needed, notice that there were varieties missing from our offerings, and send seeds.
For example, early in the Victory Seed Company's history, we only offered a couple of varieties of paste-type tomatoes. She corrected that right away by offering suggestions as well as sending seeds for several varieties [found here].
Over the years, Carolyn sent me dozens of varieties that she thought were important to preserve and keep available to gardeners. Using this link [click here], you can find varieties that she either sent to us or ones that she wrote about in her book.
Although our "chatting" was primarily limited to phone conversations and email messages, I did get the opportunity to visit her at her home in 2010 when we extended a business trip to Upstate New York into a family vacation.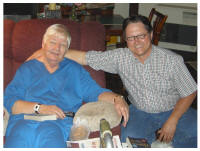 By this time, Carolyn had already experienced serious health issues that had started to limit her mobility.
Denise (my better half and co-founder of Victory Seed Co.), as well as our two youngest children, spent the afternoon visiting and getting to know each other apart from the subject of tomatoes.
As the day progressed, we phoned in an order to one of Carolyn's favorite local restaurants, and shared a meal together before we had to hit the road to make it to Albany that evening.
Learning of her passion for good, dark chocolate, Denise would keep an eye out for something special and send it to her every Christmas.
For the past few years as her health continued to decline, her posts and correspondences became sporadic, then fewer and far in between.
Although she is no longer with us, her impact and influence on the heirloom tomato community will endure through the varieties she was involved in sharing with gardeners over the decades.
Thank you, Dr. Carolyn!
---