Earl May
Born on March 21, 1890, Earl May was raised on the ranch his parents had homesteaded near Hayes Center, Nebraska. From an early age he had lofty goals and a strong desire to attend college.
It was this motivation that stirred an entrepreneurial spirit in the young man. In order to earn his way into college, Earl trapped animals, hunted wolves for the bounty, and raised and sold turkeys.
After graduating high school and still lacking the funds for college, he earned his teaching certificate and for $50 per month, began teaching near Wauneta, Nebraska. The following year he enrolled at the Fremont Normal School (Fremont, Nebraska) and after completing his training, at the age of 20, went home to become the principal of his old high school in Hayes Center. But he yearned for more.
So in 1911, May entered the law school at the University of Michigan. A significant part of this phase of his life was that for several summers, Earl earned money traveling the Eastern United States on horseback as a door-to-door salesman for the D. M. Ferry Seed Company. He learned to think on his feet, create customer trust, and discover that he was a natural born salesman.
When his father died, May headed back to Nebraska to help on the ranch but soon enrolled in the University of Nebraska to continue studies. It was here that he met his future wife, Gertrude Welch. An event that not only changed his life in the typical sense, but in the direction that his career would take as well
Miss Welch was from Shenandoah, Iowa which at the time was the epicenter of the seed and nursery business in the U.S. Her father, E. S. Welch had worked in the industry since the early 1880s and in 1891 bought a company called Mount arbor Nurseries. Welch, a contemporary of Henry Field, grew the company into one of the most successful wholesale nurseries in the U.S.
Earl and Gertrude graduated, married, and decided to move to Shenandoah. The pull of the local economy was great and Earl chose the nursery business over practicing law. He naturally decided to learn from a master and joined his father-in-law's company. For the next several years, Earl applied his life experiences and strong work ethic in learning the trade. When he felt he was ready, and with the financial backing of E. S. Welch, he founded the Earl May Seed and Nursery Company in 1919.
For several years the company struggled with few employees, long hours, and little payout. Gradually they grew their mailing list and began to realize small profits. The pivotal turning point in the growth and success of the company can likely be attributed to Mr. May's foresight into the opportunity that the new technology of radio had to offer.
The closest station to him was WOAW in Omaha, Nebraska. In 1923 he began taking local talent by bus to the station and personally spoke on various topics. In January of 1924 he offered the first 10,000 listeners who mailed him a card a free gift of iris roots. It seems like he was pleased and that he recognized that radio was the key to his success. However, he would not be the first seedsman to capitalize on the technology for on February 22, 1924, Henry Field and his Seedhouse Folk began broadcasting from their new station, KFNF, just three blocks away from May's seedhouse.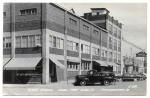 However, Earl May's broadcasts, a nice mix of musical talent and agricultural information, became quite popular and so in June of 1924, WOAW and May Seed and Nursery announced the construction of a remote studio in the company's administration building. Using telephone lines to connect to the WOAW transmitter sixty miles away in Omaha, the May studio was perhaps the longest remote radio connection of the day.
It was not long (September of 1925) before they received a license to operate and were assigned the call letters of KMA.
Using radio to entertain and promote, Earl's leadership grew the mail order business to a point where over two million catalogs were mailed annually. Radio advertising helped boost catalog sales. Mr. May not only acted as the chief broadcaster, he continued to write copy for the catalogs. Earl passed away in 1946 but family still manage the company. Betty Jane Shaw, Earl May's granddaughter, is the current president.
The company ceased producing a mail order catalog in 1991 and focused on growing into a large, regional retail nursery and garden center chain.
---
Sources:
Listen to KMA Radio here (requires
Windows MediaPlayer)