Charles Copeland "C. C." Morse
C. C. Morse Seed Company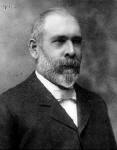 C.C. Morse, born in Thomaston, Maine in 1842, was a pioneer breeder of sweet peas whose career eventually grew to the point that he was referred to as, the "American Seed King."
Like so many others, Morse was drawn to California in 1859 by the "Gold Rush." He reportedly worked at mining for a few years but eventually made his way to the then small agricultural community of Santa Clara, California.
It was here, while working in various occupations, that he met and married Maria Josephine Victoria Langford in 1868. The couple had five children, built
a beautiful Queen Anne Victorian style mansion on a full city block lot, and were well regarded fixtures in the community.
Along with his seed business responsibilities, Mr. Morse was one of the founders of the Bank of Santa Clara, as well as the Advent Christian Church of Santa Clara.
In 1877, he and a Methodist minister, A. L. Kellogg, pooled their funds to purchase the seed company founded by O. W. Wilson, and C. C. Morse & Co. was born. A. L. Kellogg retired in 1888 and Mr. Morse became the sole owner.
By this time, seeds were being produced on 1,400 acres of land leased from the Martin Murphy estate in Sunnyvale, California. As the company expanded, additional acreage was leased in Gilroy, California.
After C. C. Morse's passing in 1900, Morse's son Lester L. Morse, born in 1870, continued the development of the sweet pea, and authored a book entitled "Field Notes on Sweet Peas."
In April 1906, the San Francisco earthquake and fire destroyed the seed company building along with all contents. At that time they consolidated their business with the Cox Seed Co. and the Seedhouse of E. J. Bowen. They continued all of the departments of the Cox company including the nurseries, retail store, catalog mail business, wholesale department, and commission box department.
The 1909 catalog included numerous photographs of the company offices and farms. By 1917, they had sold their nursery department to the Vallance Nursery owned by brothers, John and James Vallance.
In 1930, the company was merged with D. M. Ferry & Company of Detroit, Michigan to become the Ferry-Morse Seed Company. The Pacific Coast operations were under the direction of Lester L. Morse. Lester's son Charles C. Morse continued the development of flowers.
The Ferry-Morse Seed Company became part of France's Groupe Limagrain in 1981. Ferry-Morse Seed Company and Harris Moran were merged into Harris Moran Seed Company in July of 1997.[1] According to the company, Groupe Limagrain is considered to be the largest breeder-producer of horticultural seed in the world.
Sources: