R. H. Shumway
Roland Hallet (R. H.) Shumway was born on July 26, 1842 at the family farm in Kishwaukee, Illinois. At the age of 19, in June of 1862, he enlisted in Company A of the 67th Illinois Infantry, answering President Lincoln's call. Two years later he re-enlisted in the 50th Illinois Volunteer.1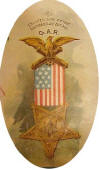 In between enlistments, Roland returned home on leave and married Emma Davis on January 16, 1864. He was discharged in July of 1865.
To their marriage, Roland and Emma were blessed with four sons and two daughters. In 1870, the year that his first son was born, he founded the R. H. Shumway Seed Company on his farm south of Rockford, Illinois. In 1872 he moved the company to East State and Third Streets in town. In 1881, the company had expanded and larger facilities were needed and they relocated to South First Street.2

The company adhered to a policy of remaining a strictly mail-order seed company. By 1926, it was reported as being the world's largest. Every spring 200,000 catalogs were mailed to customers.
Mr. Shumway died in Rockford on Thursday evening, December 30, 1925 from injuries suffered after being struck by an automobile three days prior. 1,2
Upon his death, son Myron Raymond Shumway assumed the responsibilities of running the large mail-order seed business. M. Raymond "Ray" Shumway's health started to fail and he eventually succumbed to heart disease and high blood pressure on March 16, 1933.3
Company History
The company was mentioned as being in business in the June 15, 1952 Rockford Morning Star. In 1968, Condon Brother's Seed Company merged with R. H. Shumway Seeds.9 At some point, the company ceased operating.
When the company name (brand), along with several other recognizable company names, was eventually purchased by an enterprising marketer in the 1980s, none of the original seed stock existed and seed savers were solicited for specimens.
Eventually, control of the R. H. Shumway Seed Company name (along with Seymour's Select Seeds, Totally Tomatoes, Vermont Bean Seed Company, and HPS) was acquired by the J. W. Jung Seed Company of Randolph, Wisconsin.
---
Introductions:
Tomato, 'Abraham Lincoln'
Sources:
Obituary, Rockford (Illinois) Daily Republic, January 2, 1926.
"Rockford Seed Sellers Carry Name To World", Rockford (Illinois) Morning Star, July 15, 1928.
"M. R. Shumway, Prominent as Seedsman, Dies", Rockford Register-Republic, March 16, 1933.
Notes for Roland H. Shumway
Roland H. Shumway-Emma A. Davis Family Tree
Historical Encyclopedia of Illinois, Ed. by Newton Bateman, L.L.D. and Paul Selby, A.M., Vol. II Winnebago County, ed. by Charles A. Church, Chicago, Munsen Publishing Co., 1916
Who Owns What (Refer to Jung's)
1968 R. H. Shumway Seed Annual