Norman L. Taylor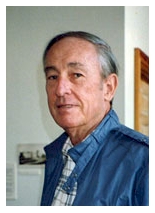 Dr. Norman L. Taylor was a world renowned Professor and clover breeder in the Department of Plant and Soil Sciences at the University of Kentucky for 48 years. Following retirement in 2001, he continued working on clovers up until his death in 2010.
Dr. Taylorís entire career was devoted to enhancing the knowledge and understanding of the genus Trifolium as well as developing improved cultivars of red clover (T. pratense L.). From the earliest days of his career he began corresponding with clover researchers worldwide and exchanging germplasm.
While most Trifolium germplasm collections concentrated on ten to twenty commercially-utilized clovers, Dr. Taylor had the goal of obtaining seed samples of every Trifolium species in the world. He collected seeds of clover species during USDA plant explorations in Romania, Yugoslavia, and western U.S., and also in Australia, England, France, Japan, New Zealand, Norway, Scotland, Sweden, and throughout the U.S.
His collection at the University of Kentucky was recognized as a specific National Plant Germplasm System (NPGS) repository (CLO) in the Germplasm Resources Information Network (GRIN) and he distributed seeds to clover researchers throughout the world.
In February 2011, the Taylor Clover collection was donated to the USDA by the Department of Plant and Soil Sciences at the University of Kentucky. The collection has been designated by NPGS as a special collection with the annual species located at the Plant Genetic Resources Conservation Unit, Griffin, Georgia, and the perennial species located at the Western Regional Plant Introduction Station, Pullman, Washington.
Presently (2011), the collection contains 1,839 inventories of 1,179 accessions representing 201 different Trifolium species. Accessions from the Taylor collection will be available for use by clover researchers and educators worldwide. This special collection is a fitting tribute to Dr. Taylorís long, distinguished career with clover genetic resources. [1]
Sources:
"Ninety years of Clover Breeding in Kentucky," Taylor, N. L. [PDF]

"A Century of Clover Breeding Developments in the United States," Taylor, N. L. [PDF]