Walter Van Fleet, M.D.
Walter Van Fleet was born on June 18, 1857 to Solomon and Elvira Van Fleet at Piermont on the Hudson, New York. The Van Fleet family emigrated from Utrecht, Holland to "New Amsterdam" in 1662. Prior to 1870, the family moved to Williamsport, Pennsylvania and eventually settled on a farm outside of Watsontown.
Along with his brother and two sisters, Walter grew up in a home environment where education and music were encouraged. Early on, Walter developed a love of nature, and it was natural for him to develop an interest in botany which later became the focus of his life.
Walter became interested in ornithology, devoting much time to this study, and in time traveled to South America where he made a collection of butterfly and bird specimens for Harvard College. Upon arriving home, he began his studies in medicine graduating from Hahnemann Medical College of Philadelphia in 1880. He received his Pennsylvania license to practice medicine in 1881 and shortly thereafter, in 1882, Dr. Van Fleet married Miss Sarah C. Heilman.
After a little more that a decade of practicing medicine, Dr. Van Fleet abandoned his career in and officially followed his first passion, entering into the field of experimental horticulture in 1892.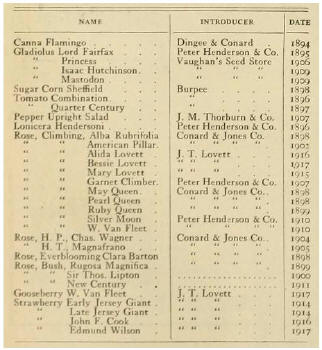 He started his new career path by experimenting with breeding Gladioulus working with the famous hybridizer, Max Leichtlin. After making thousands of crosses, only five were selected by Dr. Van Fleet that met his high standards.
He only felt that new varieties worth introducing must be more than simply new or different. In his mind, a variety should exhibit useful and / or distinctive characteristics.
Twenty-nine rose cultivars were introduced by Dr. Van Fleet between 1889 and 1926. In 1921, 'Mary Wallace' (named after then Secretary of Agriculture Henry C. Wallace's daughter) was released. Seven years later, it was voted the number one rose in the American Rose Society's popularity poll. In addition, it won numerous medals and awards.
The dooryard* roses were so popular that the American Rose Society entered into a licensing agreement with the USDA for their propagation and distribution. One of Van Fleet's cultivars, 'Sarah Van Fleet', is still sold today.
In 1924, the editor of the American Rose Annual, commented, "Nowhere else in the world is there going on such a systematic and orderly attempt to obtain a better rose variety for a specific purpose... He is probably the greatest plant-breeder America has yet known."
Along with the 1918 list of notable introductions in the image above, many modern cultivars include parentage from Dr. Van Fleet's work.
Dr. Van Fleet eventually became the horticultural editor of the Rural New Yorker and in 1909, he was appointed staff physiologist at the Department of Agriculture in Washington, D.C. He held this position until his death on January 26, 1922 in Miami, Florida at the age of 64 following an operation.
Both Dr. and Mrs. Van Fleet are buried at Watsontown Cemetery.
*Note: Dooryard was an early 1900s term for what we now call the backyard.
---
Sources:
The Garden Magazine, October, 1918

"Chestnut Breeding In The United States," Sandra L. Anagnostakis, Woodworking Times

"The Early History of Research on Ornamental Plants at the U.S. Department of Agriculture from 1862 to 1940," R.J. Griesbach and S.M. Berberich, HortScience, June, 1995
---